A disabled dog handler from Glemsford became World Champion after competing in this year's Paragility World Championships, thanks to a generous donation from the Essex-based ISP, County Broadband.
Julie Thomson, who has lived with multiple sclerosis (MS) since 1998, represented the UK at the international dog agility competition in the Netherlands earlier this year where she and her two dogs took home a Gold medal and the title of World Champion.
Mrs Thomson's travel to and from the event was fully funded by Essex-based internet service provider County Broadband which donated £951 to cover the return ferry journeys for herself, her two dogs, her carer, and her mobility scooter.
County Broadband's sponsorship was facilitated by Glemsford-based dog trainer, Jacqui Wood, of Sudbury-based dog trainers, Ace Agility, with whom Mrs Thomson has been a client for over 10 years and has since helped raise awareness for disabled dog handlers nationwide.
Commenting on her win, Mrs Thomson said: "I am immensely grateful to County Broadband for their generous sponsorship of my trip to the Netherlands as a member of the UK Paragility Team.
"This was a huge undertaking, and one that initially seemed beyond my means, but County Broadband stepped in to help my dream come true by funding our return ferry crossings from Harwich to the Hook of Holland.
"My dogs and I proud and honoured to have returned to Glemsford as the 2023 Paragility World Champions! Jacqui, my trainer at Ace Agility since 2012, and I sincerely hope that our success might inspire other disabled or less able older dog owners to try agility.  It's fun, healthy and a wonderful way to meet people!"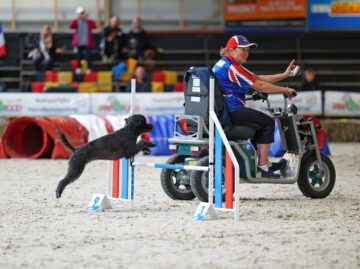 County Broadband is building new full fibre broadband infrastructure in rural villages in Suffolk and across the East of England and has committed to supporting local good causes as part of its delivery programme.
Craig Larter, Stakeholder Engagement Manager at County Broadband, said: "We're incredibly pleased to have been able to make this donation to help Mrs Thomson attend and become victorious at such a prestigious event.
"By representing the UK on the international stage, her participation has helped raise invaluable awareness for the disabled community and the importance of outdoor activities.
"As a local provider, we want to make a real difference in our communities. That's why we're going the extra mile and supporting local good causes in the villages where we are delivering our service."
Residents and businesses can check if they are covered in County Broadband's rollout by entering their postcode at www.countybroadband.co.uk where they can also register their interest in finding out more about the service.