Thousands of rural homes and businesses in North Norfolk have been earmarked to get UK-leading full-fibre broadband built in their communities after County Broadband announced its latest multi-million-pound rollout in a major boost to the region's Covid recovery.
East of England provider County Broadband has added 15 villages, including Mundesley, Brampton and Southrepps, to its rollout of fibre-to-the-premises (FTTP) infrastructure which provides access to gigabit speeds and greater reliability.
Duncan Baker, North Norfolk MP, welcomed the announcement and said the major infrastructure project aims to "deliver the digital infrastructure that North Norfolk sorely needs".

The FTTP infrastructure is replacing part-copper 'Superfast' networks which have been declared unfit for purpose by the government. The old Victorian infrastructure is unable to keep pace with modern data demands accelerated by the pandemic such as hybrid working, streaming services and gaming.
Full-fibre delivers fibre cables directly into premises to provide gigabit speeds (1,000 Mbps) that are around 11 times faster than the UK average and can be upgraded to 10,000+ Mbps in the future.
County Broadband is using tens of millions of pounds of private investment from Aviva Investors to build and deliver FTTP infrastructure to thousands of rural premises across the region. Villages need to give the green light to the proposals before work on the complex 18-month projects can begin.
County Broadband is already working with 33 villages in the Breckland and south Norfolk areas. Construction of the full-fibre infrastructure is well under way and hundreds of homes and businesses are already connected and receiving gigabit speeds.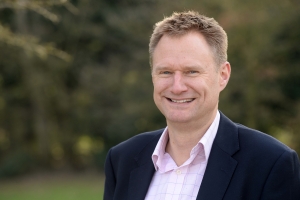 James Salmon, Director of Sales and New Territories at County Broadband, said: "We are excited to announce our full-fibre rollout plans for North Norfolk as part of our commitment to design, build and deliver future-ready digital connectivity across the East of England.
"Crucially, we have secured millions of pounds of private funding to invest in the future of rural communities, meaning we can start planning today to meet our growing needs of tomorrow.
"Demand for home and business internet connectivity is higher now than ever before and is set to continue increasing as more and more data-hungry devices require ever faster, more reliable broadband. The reality is the current part-fibre, part-copper networks simply will not be able to sustain the service we all expect and require.
"Our new full-fibre infrastructure will allow residents and families the flexibility to continue to develop and grow their internet use whether they are holding simultaneous online meetings working from home, streaming films and sport in 4K, or just being able to connect dozens of devices in their homes. It will enable us all to continue to benefit from the internet.
"Businesses can rest easy, knowing their future broadband needs are completely taken care of with access to lightning-fast speeds and bullet-proof reliability, that will enable them to invest in new services and innovations without the worry that their internet connectivity can't keep up.
"It is important to highlight that building full-fibre broadband infrastructure in rural locations at this scale is a complex task. Each project requires significant planning, resources and time. It involves the coordination of highways, landowners, civils works and advanced fibre optic engineering.
"That's why the sooner we start, the sooner this most needed service will become available."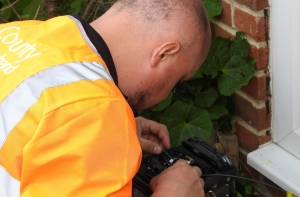 Residents and businesses can register their interest at www.countybroadband.co.uk to help ensure the sign-up requirement to build the infrastructure is reached.
The North Norfolk villages earmarked in the rollout are: Antingham, Bacton, Brampton, Burgh and Tuttington, Colby, Felmingham, Gimingham, Knapton, Mundesley, Paston, Skeyton, Southrepps, Swafield, Swanton Abbott, and Trunch.
Over the coming weeks, County Broadband's community teams will be meeting with residents and businesses in each village to explain the rollout plans in more detail and help secure local support.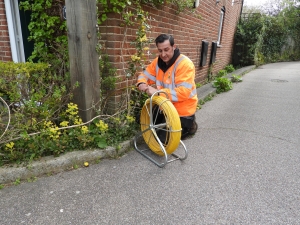 Duncan Baker, North Norfolk MP, said: "I am really excited to have met with County Broadband to hear more about their full-fibre project and the opportunity to deliver the digital infrastructure that North Norfolk sorely needs.
"The pandemic has pushed more things online and while it is important we get back to doing things in person, we need to make sure that North Norfolk keeps pace with digital improvements and having good networks is key to that."
The government is relying on privately funded, local full-fibre providers like County Broadband to help meet its flagship target of providing gigabit speeds to 85% of the UK by 2025.
Residents and businesses can find out if they are covered in County Broadband's rollout by entering their postcode at www.countybroadband.co.uk.
For more information please contact:
Tim Miller: 01473 326 405 / [email protected]
Matt Stott: 01473 326 433 / [email protected]
Cheriton Alexander: 01376 562 002 | Ext 404 / [email protected]
Notes to Editors
County Broadband is a specialist rural broadband provider based in East Anglia.
In 2018, County Broadband received £46 million funding from Aviva Investors to offer fibre-to-the-premises (FTTP) hyperfast broadband to select villages across the East of England.
FTTP is the installation of fibre optic cables directly into premises and offers speeds of up to 1,000 Mbps (1 Gigabit). This is significantly faster than the more commonly used fibre-to-the-cabinet (FTTC) technology in which fibre cables are sent to local street-side cabinets and then distributed through existing old copper cabling to each premise.
For more information, visit www.countybroadband.co.uk or follow @CountyBroadband on Twitter
Broadband speed definitions. Broadband.co.uk defines the following services:
High Speed = broadband up to 24Mbps
Superfast = Broadband Up to 80Mbps
Ultrafast = speeds of 100Mbps or more
Hyperfast = speeds of 500Mbps or more
Referenced here: https://www.broadband.co.uk/guides/ultrafast-and-hyperfast-broadband/