Rural broadband provider County Broadband has launched a new charity with thousands of pounds of grant funding available to support organisations making a positive impact in rural communities across the East of England.
The Hypercharged Foundation is an independent grant-giving charity set up to support community-centric causes partially funded by the firm and its registered partners.
The launch is part of County Broadband's long-term commitment to support the communities across the East of England where it is building its full fibre networks.
Organisations within County Broadband's rollout areas are invited to apply for grants through the Foundation's website. Eligible applications are then considered by the Foundation's trustees through a selection criteria.
Hypercharged Foundation trustee, Craig Larter, said: "We're incredibly pleased to launch our Foundation and the positive impact this will have on local communities in and around The East of England.
"It builds on our proud history of supporting local communities, both through the delivery of vital broadband services but also by helping many village halls obtain free broadband services and donating tablets and educational resources to local schools.
"Our mission is to award grants to community-centric good causes who are making a real difference in the community. Whether you're fundraising to improve your sports club or village hall, or you're struggling with transportation for older people or those living with disabilities – we want to hear from you!"
One of the first charities to secure funding from the Hypercharged Foundation is Great Paxton Recreation Ground in Cambridgeshire which has received £2,500 to support the upkeep of the ground's five acres of land.
The grant marks the first contribution in fundraising to replace the ride-on mower that is currently used to maintain the grass. This will ensure the grounds are in good condition for the local football teams, allotment gardeners and community members that make regular use of the open space.
Parish Council Representative Howard Fieldhouse from Great Paxton Recreation Committee said: said: "The Hypercharged Foundation's donation is an invaluable contribution that has sowed the first seeds towards acquiring the much-needed replacement of our ride-on mower.
"The recreation ground plays a huge part in the lives of our village's community, playing host to sports, community events and allotment hobbyists alike. There's no doubt that families and friends have made wonderful memories making use of the open space.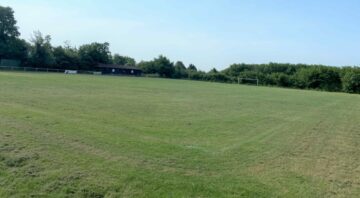 "A new ride-on mower will allow us to keep the grounds in a prime state so more memories can be made and we're so grateful that the Hypercharged Foundation could kickstart our journey to achieve that goal."
The Hypercharged Foundation is an independent charitable trust regulated by the Charity Commission. The Foundation is managed and funded by County Broadband Limited and its Supporting Partners.
County Broadband is building full fibre networks in rural communities across the East of England. The infrastructure uses fibre-to-the-premises (FTTP) technology where fibre optic cables are installed directly into premises with the capability for almost limitless download and upload speeds. County Broadband is currently offering a choice of speeds of up to 1,000 Mbps.
To apply for grant funding, please visit the Hypercharged Foundation website.