With women representing fewer than one of five (16.5%) engineers and a wider shortage affecting the industry, two of just a handful of female broadband engineers across the East of England have outlined the opportunities for young people entering the profession.
The announcement follows International Women In Engineering Day (23 June) which recognises the work of female engineers 'who are helping to build a brighter future for the industry'.
Bess and Georgia, Junior Operations Engineers, both work for County Broadband, a Colchester-based rural broadband provider which is building new full fibre networks across the East of England following a combined £146m private investment from Aviva Investment. They shared how they entered the industry and what a typical day entails.
"A year ago I was looking for a career change and was keen to try something new", says Bess. "Whilst I didn't have a background in engineering, County Broadband was advertising for the position with the offer of full training and it seemed like the perfect opportunity.
"It's a very active role and I enjoy the variety as every day is different. Most of my time is spent 'on the tools' helping to deliver our full fibre network. I usually work in Essex but also travel across the region from Norfolk to Cambridgeshire where we're connecting rural communities. I enjoy meeting many of our customers (and their pets!).
"Team work is at the heart of what we do. When I'm on the ground putting in a new connection there's a huge team behind me that's made this possible. I'd say the key skills are being able to think on your feet, perseverance, patience and being methodical.
"Even straight forward connections can become more complex due to unforeseen circumstances. Customers are looking at me to solve the problem and get them connected and there's a real sense of accomplishment once the job has been completed. You also need to be comfortable with heights when climbing up network poles!
"Even though there are relatively few female broadband engineers in the region, I've never felt like I've been treated differently. It's a fantastic role with huge variety and I hope more women consider this as a career choice."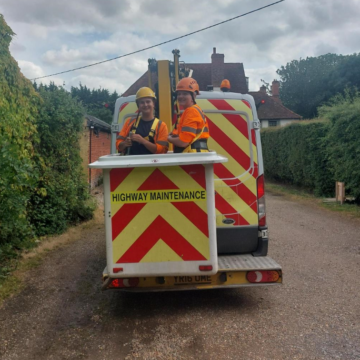 Georgia worked at Openreach for three years before leaving the industry for 12 months. "I missed being out in the field", said Georgia. "For me, I didn't want to be stuck behind a desk and I was excited when I saw the engineering role come up at County Broadband.
"My days are a real mix. Sometimes I'm focused on conducting surveys to assess the local infrastructure before we put in the connections. Other days, I'm visiting customers at home and installing our full fibre service. It varies depending on the complexity of the job but typically I connect around 4 customers per day.
"I've also had the opportunity to work with a fantastic team and been able to learn on the job. I think what's key is a genuine interest in understanding how the technology works and taking the time to learn the different aspects of the role.
"It's really positive to see more women entering the profession as it's an exciting and rewarding role. My experience has been nothing but positive and if you like being active, working as a team and solving problems I would highly recommend finding out more about the opportunities available."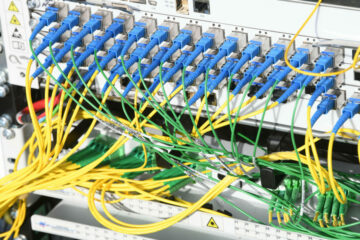 The government has set an ambition to achieve nationwide gigabit broadband coverage by 2030 which will require an acceleration in the rollout of full fibre networks. According to Ofcom, around 50% of premises in the UK currently have access to the technology.
County Broadband's full fibre networks deliver fibre cables directly into premises and replace existing 'Superfast' connections which rely on slow copper cables dating back to the Victorians which cannot be upgraded to support modern data demands. The provider is offering packages over its full fibre networks with a choice of speeds of up to 1,000 Mbps. The network can easily be upgraded in the future to offer almost limitless speeds.
Residents and businesses can check if they are covered in County Broadband's rollout by entering their postcode at www.countybroadband.co.uk where they can also register their interest in finding out more about the service.