Hundreds more homes and local businesses in rural Essex can now access gigabit-speed full fibre broadband after County Broadband completed its multi-million-pound digital infrastructure build works in several new villages.
Wormingford near Colchester, Wethersfield near Braintree, and Weeley Heath in Tendring are the latest rural communities to be connected to County Broadband's full fibre network. Over 1,400 premises in the three villages can access the new gigabit speed infrastructure.
County Broadband is designing, building and deploying full fibre broadband in over 250 villages in the East of England, backed by a combined £146 million of private investment from Aviva Investors, to drive economic growth and provide reliable access to online services for homes and businesses.
Full fibre provides download and upload speeds up to 1,000 Mbps (gigabit speeds) which are 11 times faster than the old copper-based superfast internet in current use. The government has said the Victorian copper infrastructure is not fit for modern purposes due to poor speed and reliability.
Full fibre can also be upgraded to 10,000-plus Mbps speeds in the future and provides superior network reliability due to the fibre optic cables that are installed directly into each premise.
Rural provider County Broadband, based in Aldham, specialises in building full fibre infrastructure in rural and hard-to-reach communities which have been typically overlooked by other companies. The community provider's rollout is also helping to bridge the rural and urban digital divide.
In rural Essex, County Broadband has delivered full fibre access to over 6,700 homes, businesses and community venues in 78 villages in total that have gone live since the pandemic.
James Salmon, Director of Sales and New Territories at County Broadband, said: "We are on a mission to deliver full fibre broadband to people working and living in rural and hard-to-reach areas across Essex so that they're not left behind in our increasingly digital modern lives.
"That's why we're excited to be welcoming Wormingford, Wethersfield and Weeley Heath to our ever-expanding live network and we can't wait to hear about the immediate and long-term benefits our full fibre connections bring to their communities.
"Whether you're an individual or family that wants multi-device home entertainment and remote work that's reliable and seamless, or a local business in need of crystal-clear, uninterrupted video calls and lightning-fast, secure cloud storage, we're committed to accelerating our full fibre rollout."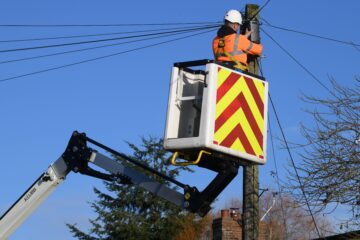 Meanwhile, County Broadband has also announced that build work has begun in five new villages: South Hanningfield and West Hanningfield in the Chelmsford district, and Tollesbury, Tolleshunt D'Arcy, and Tolleshunt Major in the Maldon district.
Approximately 3,500 premises will be connected in these five villages over the coming months as construction progresses. This brings the total number of villages in Essex either live or in build to 83.
Build partners supporting County Broadband's rollout in Essex include AB Installs and Highway Workforce.
Councillor Tom Cunningham, Essex County Council's Cabinet Member for Planning a Growing Economy, said: "We know how important it is to ensure rural communities in Essex are digitally connected and we're delighted to see that County Broadband is rolling out gigabit broadband into our Essex villages.
"As part of our goal to reach the final 2% of addresses which cannot access a decent broadband connection, we are engaging with and supporting the work of commercial broadband operators. We look forward to working closely with County Broadband and will continue to support the important work they do."
County Broadband's full fibre networks uses fibre-to-the-premises (FTTP) infrastructure where fibre optic cables are installed directly into premises, which has the capability to have almost limitless download and upload speeds in future. The alternative-network (alt-net) provider is currently offering packages over its full fibre networks with a choice of speeds of up to 1,000 Mbps.
Ofcom has* announced new guidance to help consumers identify the difference between full fibre services and the slower part-fibre, part-copper superfast networks. The guidance addresses misleading advertising by national providers promoting copper-based fibre-to-the-cabinet (FTTC) services as 'fibre broadband' when in it is actually much slower 'superfast' broadband that still uses outdated Victorian copper wires to connect to the home.
Due to the geographical and operational challenges of delivering large-scale infrastructure projects in rural and remote areas, it typically takes 18 to 24 months for the full fibre network to be designed, built and deployed after the community has given the go-ahead to proposals.
Residents and businesses can check if they are covered in County Broadband's rollout by entering their postcode at www.countybroadband.co.uk where they can also register their interest in finding out more about the service.